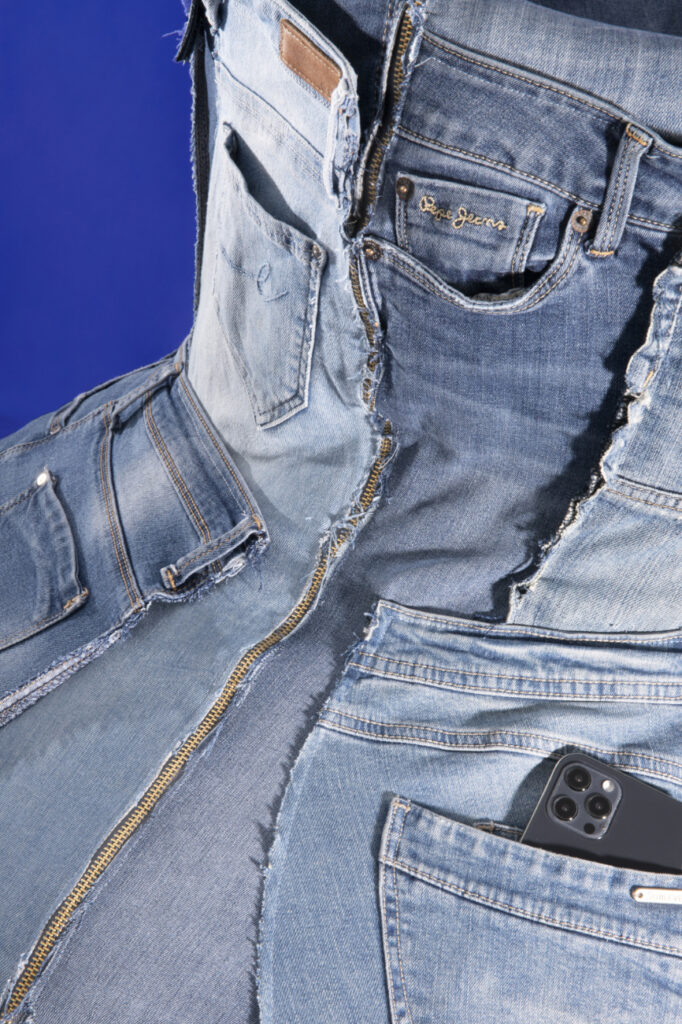 Title:
Trousers without Pockets

Year:
2021

Material:
Denim, Fake iPhones, Wood, Wire, Wadding
The shape of the large, bulbous amphora was upscaled according to ancient Greek designs and wrapped in denim. With a long, golden zip, one would be able to completely undress the amphora.
Its tight sleeve is fitted with numerous but small trouser pockets, as they are common on women's trousers. Inside the pockets you can find large fake iPhones that almost threaten to fall out.
In the work, I deal with an everyday phenomenon of the gender gap that women know all too well. Often the pockets on women's trousers, dresses and jackets are designed too small or even only hinted at.
The gender data gap can also be found in the design of smart phones. The displays of mobile phones have become larger and larger over time, but the reference point for their development has so far been the male prototype. As a result, women and people with smaller hands have problems operating the devices.
Together with Bitter Pills and Snow Runner, Amphora is part of a three-part series on the gender data gap.
Text excerpt by Seraphine Meya
To read full text in english please klick here
Für den ganzen deutschen Text bitte hier klicken