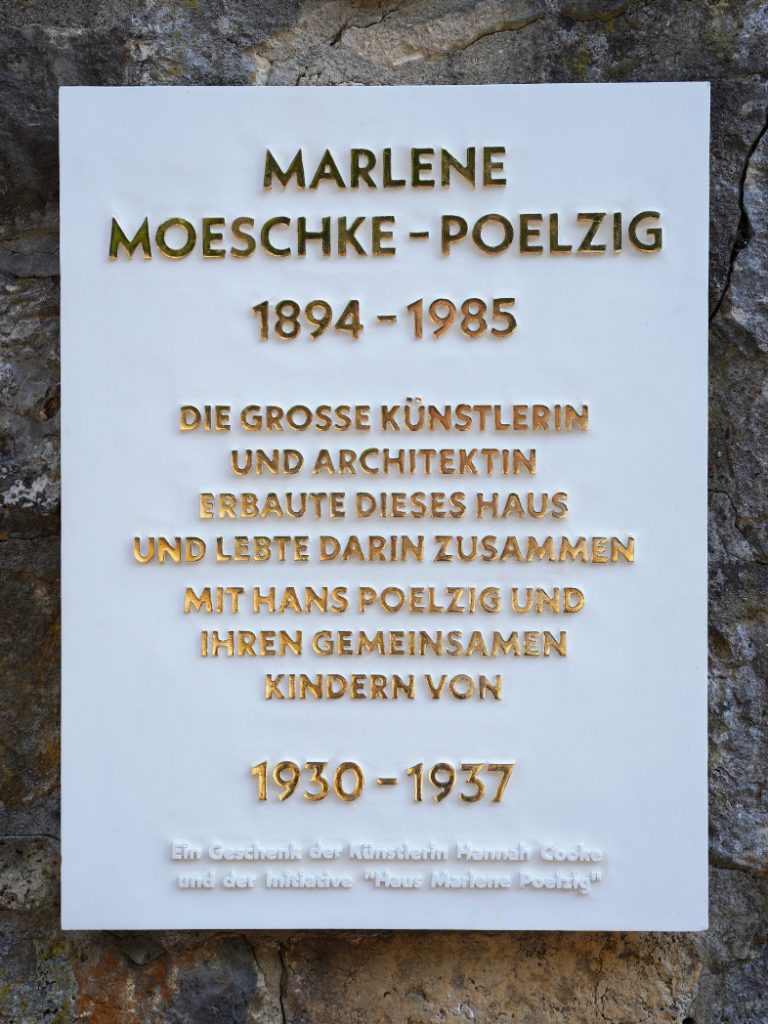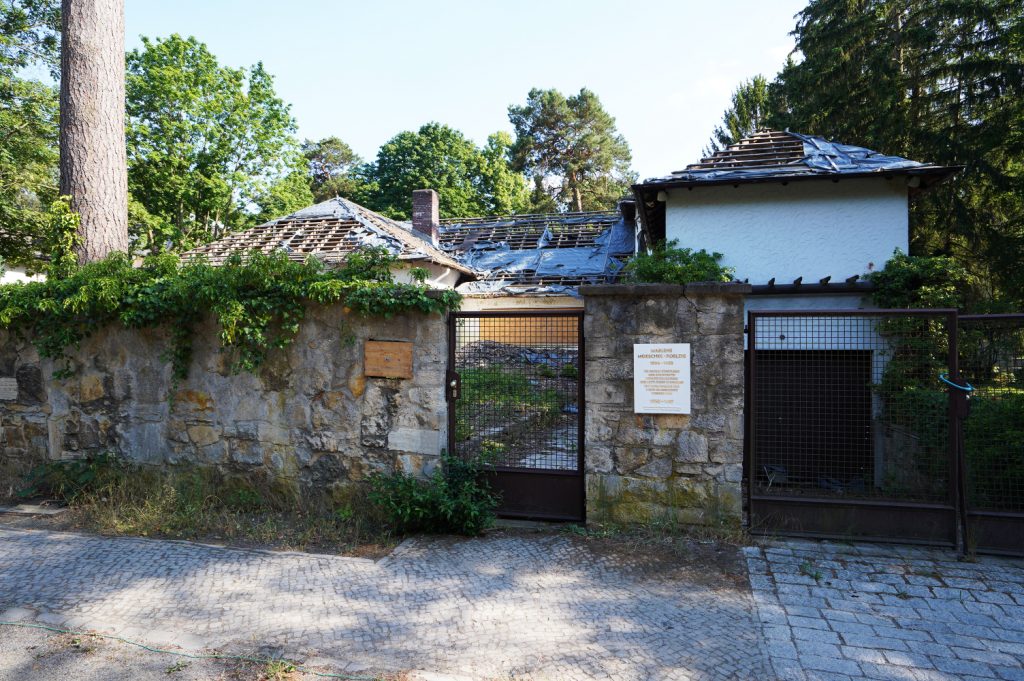 Title:
Gedenktafel für Marlene Moeschke-Poelzig
eng.: "Memorial plaque for Marlene Moeschke-Poelzig"
Year:
2021
Installed plaque:
Gold leaf, plaster
Majolika Edition:
Ceramic, white glaze
Technical support:
Andreas Höllendorfer (ato.black)
As an artistic intervention, the memorial plaque by Hannah Cooke was unveiled to honour Marlene Poelzig on 18 June, as part of the Women in Architecture Festival 2021.
Until recently, a memorial plaque in honour of Hans Poelzig was placed on the garden wall of the Poelzig house. Marlene Moeschke-Poelzig as the actual architect, on the other hand, was not mentioned at all. Such "details" make clear where the focus has been placed in our society up to now. Women and their achievements were overshadowed by their famous husbands.
In order to give Marlene Moeschke-Poelzig the honour she deserved, Hannah Cooke renewed the memorial plaque. She based the design and dimensions on the previous memorial plaque of Hans Poelzig. The connection to Marlenes husband and children is still clearly visible in Cookes work.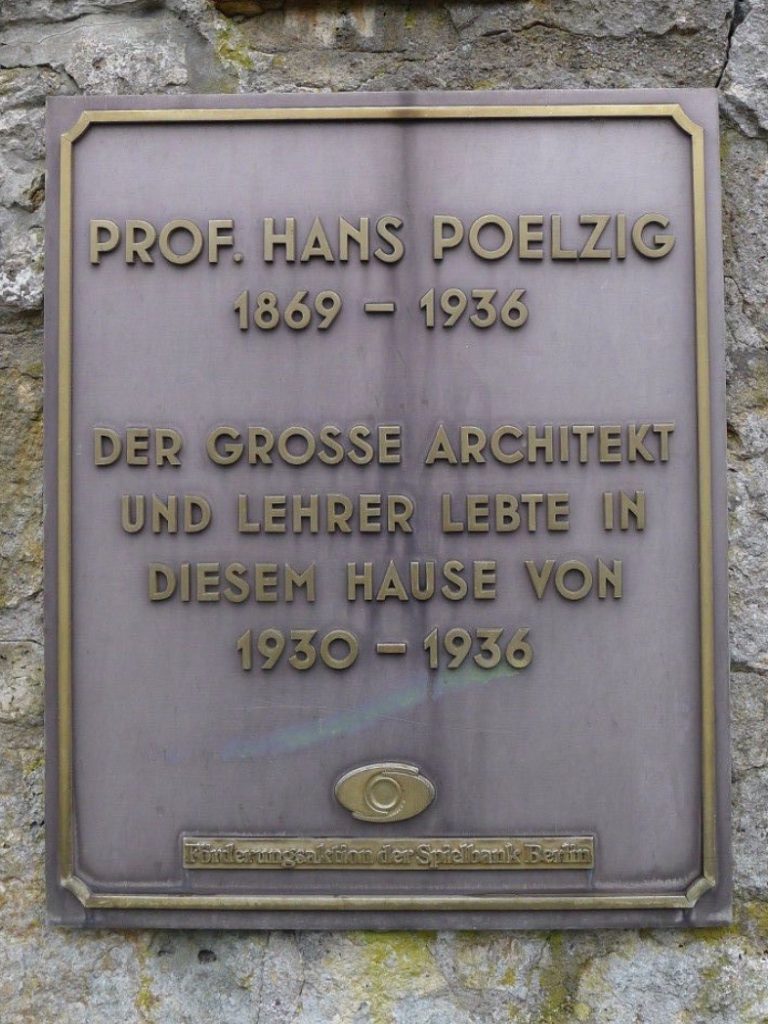 Cooke made the plaque at the Staatliche Majolika Manufaktur Karlsruhe. Marlene and Hans Poelzig had two ceramic fountains made here as early as 1926 for the Jubilee Horticultural Exhibition in Dresden. In 1927, the fountain was acquired by Hermann Rese and presented to the city of Hanover as a gift the following year. The "Rese Fountain" or "Majolica Fountain" still stands in Hanover today.
Historical background
The Poelzig family's home and studio in Berlin-Westend was built in 1930 to the design of the sculptor and architect Marlene Moeschke-Poelzig. Her husband was the renowned architect Hans Poelzig. The house is an outstanding example of modernist architecture and of the emancipation of women architects in the early 20th century. The floor plan, furnishings and garden of the property at Tannenbergallee 28 are still largely preserved today. The roof was significantly altered after 1945 in the spirit of conservative post-war architecture.
In the summer of 2020, a petition called for the preservation and monument protection of the steadily decaying building that was threatened with demolition; almost 5,000 signatures were collected. Since then, an initiative of citizens, building culture experts and interested parties has been working both to preserve the remains of the building and to recognise the architect's life's work – representative of many too little appreciated lives of female architects and master builders. As a long-term vision, the initiative strives to establish a scholarship programme for female masters of building culture, ideally at the site of the Marlene Poelzig House.
The Marlene Poelzig Initiative invited Hannah Cooke to create an artwork for the demonstration on site. In front of the house, members of the initiative gave impulses on Marlene Poelzig, the history of the house, planned events and a new residency programme.
The project was initiated by "Initiative Haus Marlene Poelzig" and accompanied by ato.
Demonstration and artistic intervention for the preservation of the House of Marlene Poelzig took place:

18.06.2021
4-6pm
House Marlene Poelzig
Tannenbergallee 28
14055 Berlin
(S-Bahn station Heerstraße)
An action in the context of the festival Women in Architecture 2021.
www.wia-berlin.de