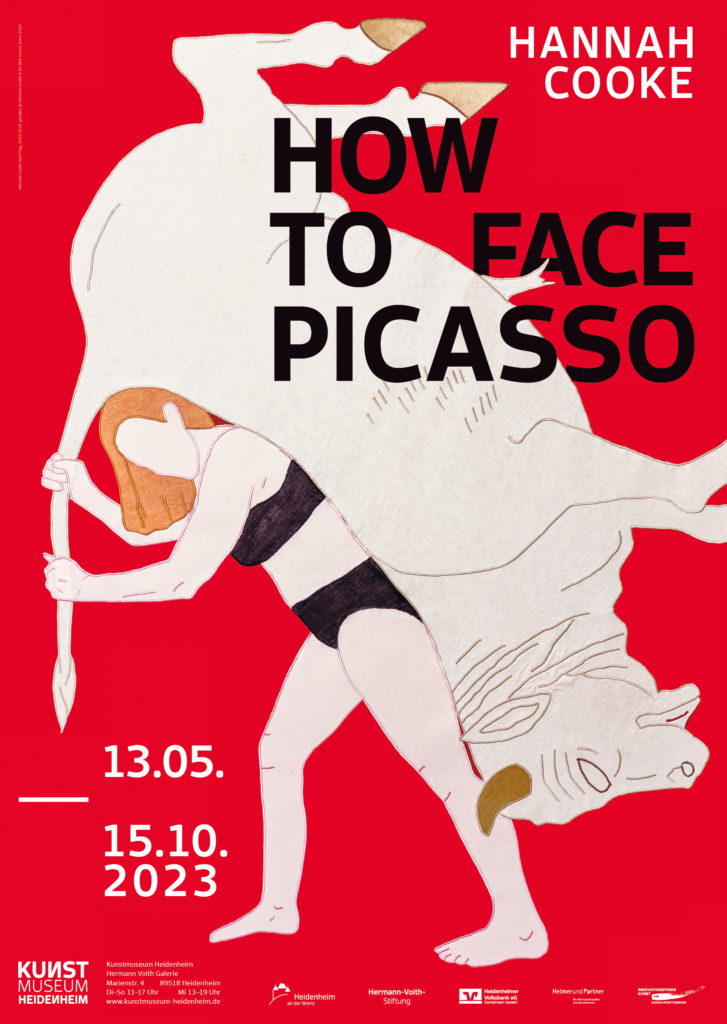 HOW TO FACE PICASSO
OPENING: 12 May 2023 at 6 pm
EXHIBITION: 13 May to 15 October 2023
2023 marks the 50th anniversary of Pablo Picasso's death. The view of the artist's life and work has changed again and again over the past decades. In the wake of the MeToo movement, the Spaniard's relationship to women has been increasingly brought into focus in the recent past. From a feminist perspective, one can certainly ask whether the staging and celebration of Picasso as a "genius" thwarts a fundamental questioning of his misogynistic attitude and whether it is not time to also address this in exhibitions. In the case of Picasso in particular, the topic is of special relevance. After all, his life and work are closely linked. So should works such as "Minotaur raping a woman" still be shown today without commentary in exhibitions of his work, or should Picasso's problematic dealings with his lovers and wives be addressed more strongly instead?
Taking these questions and the anniversary year as an occasion, the Kunstmuseum Heidenheim has invited the artist Hannah Cooke to create works and an exhibition on the subject. How to Face Picasso takes up the challenge of a young, female commentary on the artist of the century. For the show, Cooke developed textile works, the so-called Red Flags. In compressed form, the sewn works refer to anecdotes in Picasso's life or are sensual-aesthetic approaches to a possible change of perspective. That Cooke chose the textile as his medium is no coincidence. For one thing, it is often associated with the feminine. But it is also one of the artistic techniques with which Picasso never consciously concerned himself, so that it does not compete with his other materials. Furthermore, the Red Flags also allow for a different presentation than that offered by the Kunstmuseum's collection of posters and prints. Suspended freely from the ceiling, they leave the walls on which Picasso's works previously hung exposed. Leaving walls free is also a theme of the show in another way. For in addition to his own works, Cooke is also making a statement with his own curatorial concept.
The exhibition How to Face Picasso is supported by the Innovation Fund for Art of the Baden-Württemberg Ministry of Science, Research and the Arts.
Text: Marco Hompes, Heidenheim Art Museum
Graphic design: Erik Schöfer
DIRECTIONS & CONTACT
Art Museum Heidenheim
Marienstraße 4
89518 Heidenheim a. d. Brenz
OPENINGHOURS
Tuesday, 11 a.m. – 5 p.m.
Wednesday, 1 – 7 p.m.
Thursday to Sunday, 11 a.m. – 5 p.m.

https://kunstmuseum-heidenheim.de/hannah-cooke/
---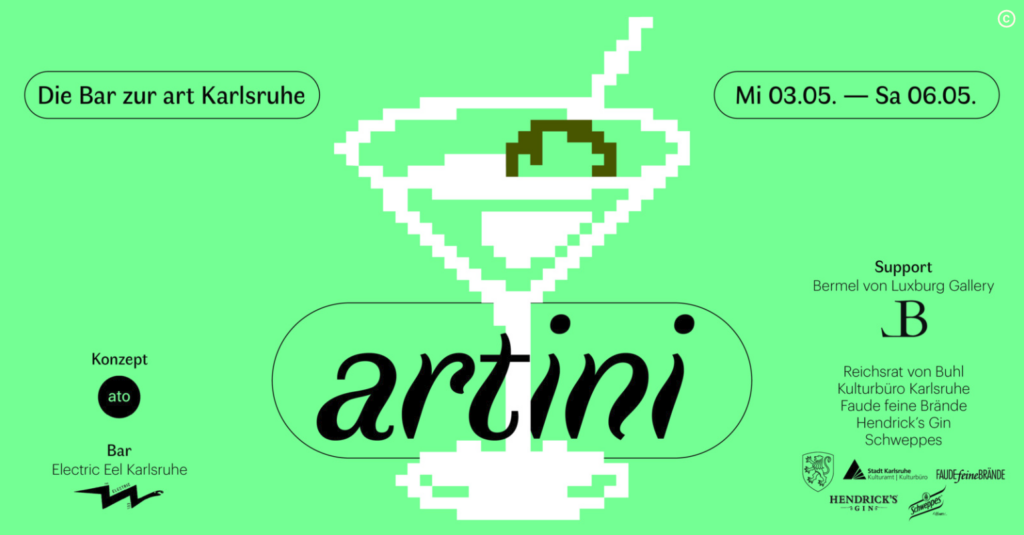 AUF EINEN MARTINI IM ARTINI
03.05. – 06.05.
BAHNHOFPLATZ 8, KARLSRUHE
TÄGLICH 17.00 – 00.00
Parallel zur Kunstmesse art Karlsruhe eröffnen wir eine Bar in einem doppelstöckigen Leerstand. Bei uns treffen sich Galerist:innen, Künstler:innen, Gäste der art sowie die Karlsruher Stadtgesellschaft.
An geselligen Barabenden wollen wir Gespräche und Vernetzung anregen und damit Gedanken über Veränderungen und Kooperationen im Kunstsystem anstoßen. Es soll ein Gefühl von "so könnte es sein" geschaffen werden. Dazu können Kunstwerke von Benjamin Breitkopf, Hannah Cooke, Sebastian Heck, Kilian Kretschmer, Nemanja Sarbajic, Von Silberland und Sibylle Wagnerentdeckt werden.
Mit dem Electric Eel als Barhost wird eine besondere Atmosphäre geschaffen, die Gemütlichkeit und hochprozentige Qualität verspricht – ein Ort, der besonderen art.
PROGRAMM:
Mi 03.05.
ab 19.00 Uhr Sektempfang ausgerichtet von Reichsrat von Buhl
20.00 Uhr DJ Fourmi
22.00 Uhr DJ LowNat
Do 04.05.
ab 19.00 Uhr Kunstmarkt BINGO mit Stephanie von Rothe und Emma-Lilo de Keller
20.00 Uhr Johannes Fleck (sponsored by Schweppes)
Fr 05.05.
ab 19.00 Uhr Performance "Automation" von Kilian Kretschmer
20.00 Uhr Enkidu
22.00 Uhr Sebastian Heck
Sa 06.05.
18.00 Uhr Diskussion mit Hannah Cooke über ihre ausgestellte Videoarbeit "Bruised Egos and Small Heads", die sich mit den mächtigsten Akteur:innen der Kunstwelt auseinandersetzt, moderiert von Norina Quinte
20.00 Uhr Ubbo Gronewald & Super Venus
22.00 Uhr DJ Deichgraf
https://ato.vision/exhibitions/artini
---
to come 14th of July 2023
"Point of View"
Fruchthalle Rastatt
(new work)
---
to come 15th of July 2023
"50 Jahre LBK"
Regierungspräsidium Karlsruhe
(Trouser without pockets)
---
to come 15th of July 2023
Wiesbadener Kunstsommer
(Ada vs)
---
Still running until 21st of May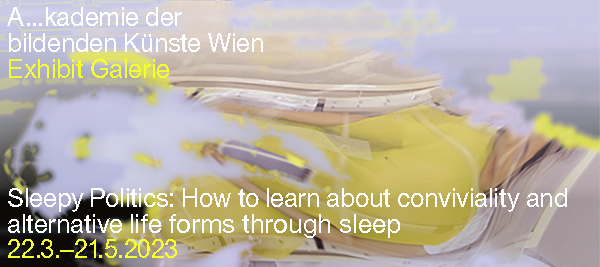 Sleepy Poltics
The artistic positions make the exhibition a place of encounter for sleep and awakening, rest and movement, dreamlike absence and constant disposition. Therefore, sleep becomes a scene for debating political affairs and practices of resistance. Thus, a space is created where the emancipatory shaping of conviviality is negotiated under the conditions of social, ecological, and political crises.
Exhibit Galerie: 22.3.-21.5.2023
Opening: 21.3.2023, 18-22 h
Exhibit Galerie, Academy of Fine Arts Vienna, Schillerplatz 3, OG1, 1010 Vienna
Opening hours: daily except Mon 10-18h
---
INSTAGRAM
---